About
"BIOWN light" technology is a smart LED lighting system developed by the Lithuanian company SELTEKA in collaboration with scientists from Vilnius University and Kaunas University of Technology.
Hence, it is based on know-how, which comes from 50 years of experience in the electronics business and also is supported by the theoretical knowledge from academia.
The BIOWN brand reflects the biological needs, which are essential for every human. We created a system, which is not only energy-efficient, but it also adopts the natural biorhythm, which maybe even more important than practical demands.
This is a new a step in enhancing peoples' living and working environment.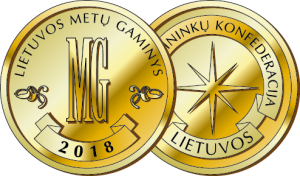 Smart LED luminaire SKYLIGHTER
With a unique 6 channel light mixing technology BIOWN delivers:
Amazing quality of LED lighting.
It is similar to the natural light: color rendering index (CRI) Ra > 95, R9 > 90.
Circadian action.
In order to support natural human biorhythm during the day luminaire automatically changes light parameters: intensity and colour temperature.
Unique design.
Slim design ,with a sleek shape, that creates a broad feel of light, suitable for multi-purpose premises.
Drivers and circadian controls are invisible.
It is positioned inside the luminaire.
Reliable thermal management.
Main part of aluminum frame serves as a heat sink.
No glare.
The special designed shape produces a large light emmiting surface
Functionality.
It can be used in automatic or manual mode to manage settings.
Simple operation.
Easily controlled by two buttons or via a smart device.
Energy saving.
Integrated passive infrared (PIR) and ambient light (AL) sensors adapt to the environment and reduce electricity consumption.
Lifespan.
The optical feedback stabilization system, for colour and ageing compensation, ensures the quality is stable through the whole lifespan of the luminaire.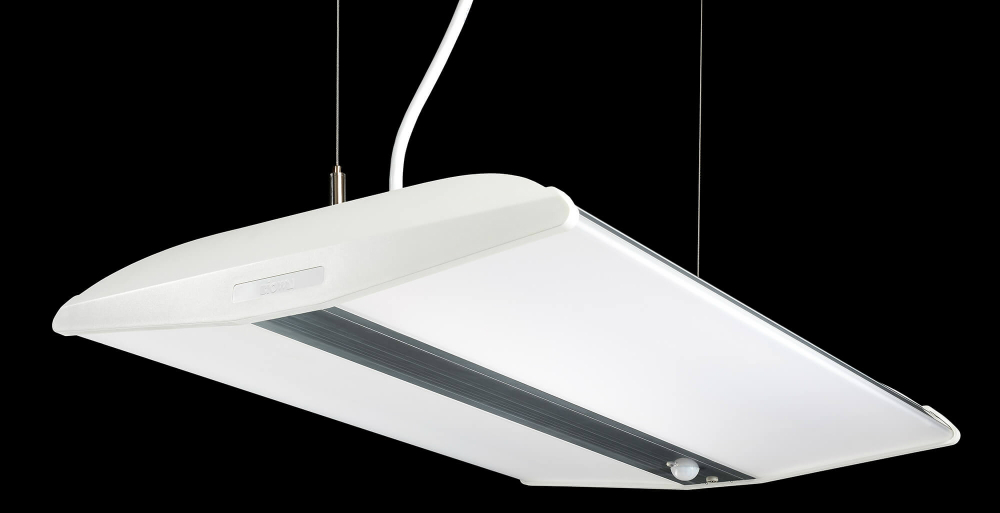 Specification
Luminaire size (mm): 552 x 418 x 75
Beam angle: @ECO Circadian Mode 99° @ C0-180, 109°@ C90-270
Beam angle: @Boost Circadian Mode, Maximum intensity 99° @ C0-180, 108°@ C90-270
Luminous flux: 3400 ÷ 5300 lm ±5%
CCT: 2700K ÷ 6500K
LED quantity: 208 pcs
Power consumption: 42.5 ÷ 68 W ±5%
Mains voltage: ~230V 50Hz; ~120V 60Hz
Specification
Power efficiency: ≤ 85 %
PF: >0.9
Operating temperature: 10°C ÷ 40°C
CRI Ra: > 95
CRI R9: > 90
Housing metal parts: Extruded AL6063
IP level: IP20; Higher Levels: available (to be discussed)
Warranty: 5 years (limited)

Control
Circadian Power and CCT management: Automatic, HW inside luminaire
Luminaire Grouping and Lighting Scenes: external control module (ECM)
Up to 64 luminaires can be connected to ECM
Luminaires: up to 64pcs to each additional control module (ACM)
Groups: up to 16 luminaire groups
Manual Power and CCT dimming: Yes
Lighting scenes: up to 16
Control line: 2 wire line (Dali compatable)
Connection to ECM: PC, laptop,
mobile (Android, iOS) through Ethernet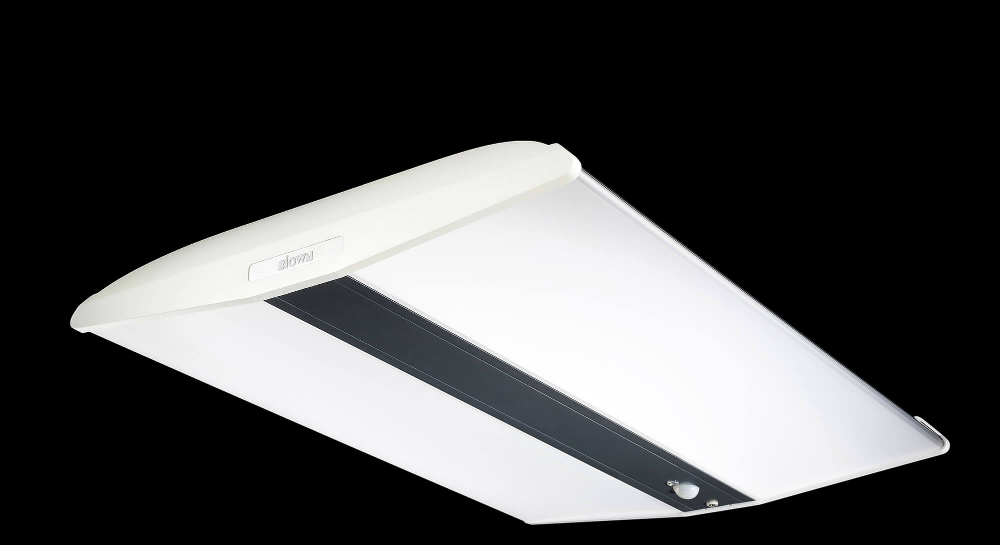 Specification
Luminaire size (mm): 552 x 418 x 75
Beam angle: @ECO Circadian Mode 99° @ C0-180, 109°@ C90-270
Beam angle: @Boost Circadian Mode, Maximum intensity 99° @ C0-180, 108°@ C90-270
Luminous flux: 3400 ÷ 5300 lm ±5%
CCT: 2700K ÷ 6500K
LED quantity: 208 pcs
Power consumption: 42.5 ÷ 68 W ±5%
Mains voltage: ~230V 50Hz; ~120V 60Hz
Specification
Power efficiency: ≤ 85 %
PF: >0.9
Operating temperature: 10°C ÷ 40°C
CRI Ra: > 95
CRI R9: > 90
Housing metal parts: Extruded AL6063
IP level: IP20; Higher Levels: available (to be discussed)
Warranty: 5 years (limited)

Control
Circadian Power and CCT management: Automatic, HW inside luminaire
Luminaire Grouping and Lighting Scenes: external control module (ECM)
Up to 64 luminaires can be connected to ECM
Luminaires: up to 64pcs to each additional control module (ACM)
Groups: up to 16 luminaire groups
Manual Power and CCT dimming: Yes
Lighting scenes: up to 16
Control line: 2 wire line (Dali compatable)
Connection to ECM: PC, laptop,
mobile (Android, iOS) through Ethernet
Specification
Luminaire size (mm): 595 x 595 x 75
Beam angle: @ECO Circadian Mode 103° @ C0-180, 110°@ C90-270
Beam angle: @Boost Circadian Mode, Maximum intensity 103° @ C0-180, 109°@ C90-270
Luminous flux: 3400 ÷ 5300 lm ±5%
CCT: 2700K ÷ 6500K
LED quantity: 208 pcs
Power consumption: 42.5 ÷ 68 W ±5%
Mains voltage: ~230V 50Hz; ~120V 60Hz
Specification
Power efficiency: ≤ 85 %
PF: >0.9
Operating temperature: 10°C ÷ 40°C
CRI Ra: > 95
CRI R9: > 90
Housing metal parts: Extruded AL6063
IP level: IP20; Higher Levels: available (to be discussed)
Warranty: 5 years (limited)

Control
Circadian Power and CCT management: Automatic, HW inside luminaire
Luminaire Grouping and Lighting Scenes: external control module (ECM)
Up to 64 luminaires can be connected to ECM
Luminaires: up to 64pcs to each additional control module (ACM)
Groups: up to 16 luminaire groups
Manual Power and CCT dimming: Yes
Lighting scenes: up to 16
Control line: 2 wire line (Dali compatable)
Connection to ECM: PC, laptop,
mobile (Android, iOS) through Ethernet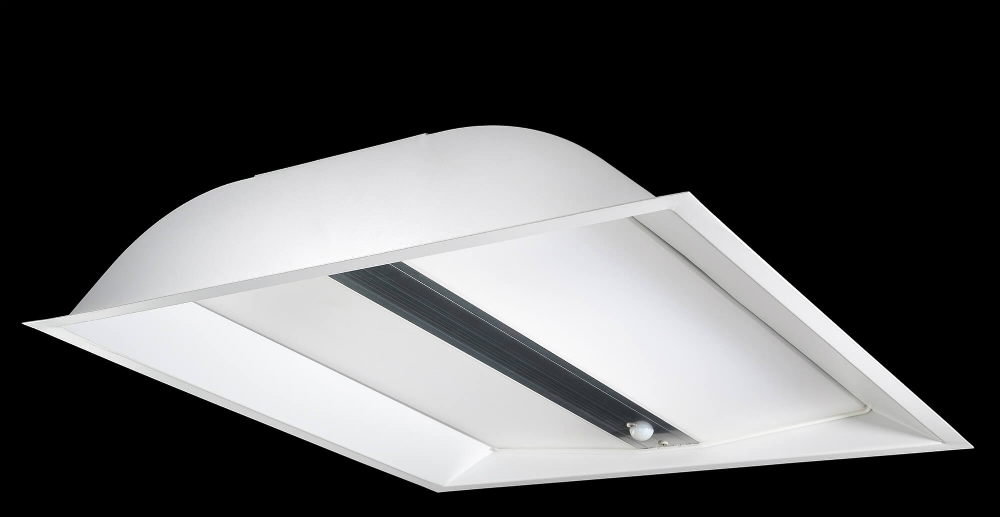 Specification
Luminaire size (mm): 595 x 595 x 95
Beam angle: @ECO Circadian Mode 101° @ C0-180, 111°@ C90-270
Beam angle: @Boost Circadian Mode, Maximum intensity 99° @ C0-180, 108°@ C90-270
Luminous flux: 3400 ÷ 5300 lm ±5%
CCT: 2700K ÷ 6500K
LED quantity: 208 pcs
Power consumption: 42.5 ÷ 68 W ±5%
Mains voltage: ~230V 50Hz; ~120V 60Hz
Specification
Power efficiency: ≤ 85 %
PF: >0.9
Operating temperature: 10°C ÷ 40°C
CRI Ra: > 95
CRI R9: > 90
Housing metal parts: Extruded AL6063
IP level: IP20; Higher Levels: available (to be discussed)
Warranty: 5 years (limited)

Control
Circadian Power and CCT management: Automatic, HW inside luminaire
Luminaire Grouping and Lighting Scenes: external control module (ECM)
Up to 64 luminaires can be connected to ECM
Luminaires: up to 64pcs to each additional control module (ACM)
Groups: up to 16 luminaire groups
Manual Power and CCT dimming: Yes
Lighting scenes: up to 16
Control line: 2 wire line (Dali compatable)
Connection to ECM: PC, laptop,
mobile (Android, iOS) through Ethernet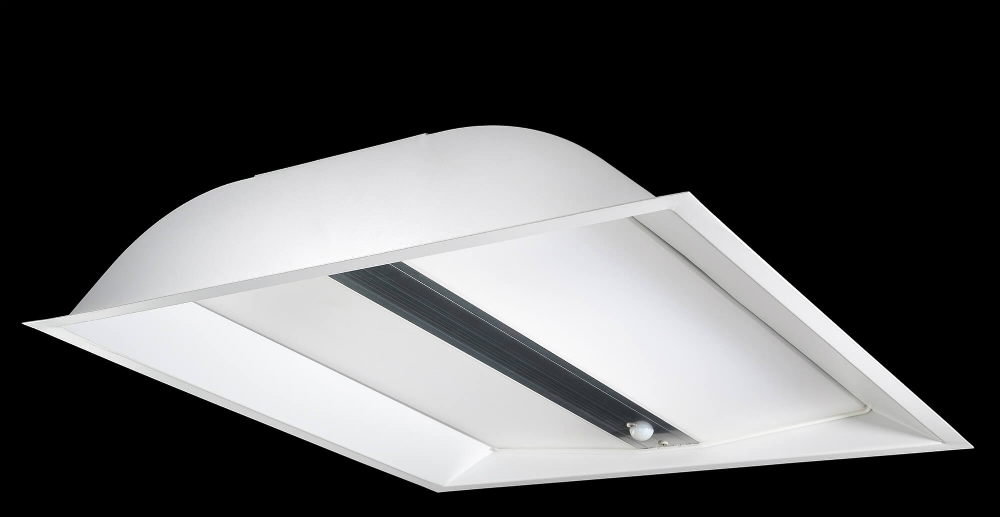 Specification
Luminaire size (mm): 620 x 620 x 95
Beam angle: @ECO Circadian Mode 101° @ C0-180, 111°@ C90-270
Beam angle: @Boost Circadian Mode, Maximum intensity 99° @ C0-180, 108°@ C90-270
Luminous flux: 3400 ÷ 5300 lm ±5%
CCT: 2700K ÷ 6500K
LED quantity: 208 pcs
Power consumption: 42.5 ÷ 68 W ±5%
Mains voltage: ~230V 50Hz; ~120V 60Hz
Specification
Power efficiency: ≤ 85 %
PF: >0.9
Operating temperature: 10°C ÷ 40°C
CRI Ra: > 95
CRI R9: > 90
Housing metal parts: Extruded AL6063
IP level: IP20; Higher Levels: available (to be discussed)
Warranty: 5 years (limited)

Control
Circadian Power and CCT management: Automatic, HW inside luminaire
Luminaire Grouping and Lighting Scenes: external control module (ECM)
Up to 64 luminaires can be connected to ECM
Luminaires: up to 64pcs to each additional control module (ACM)
Groups: up to 16 luminaire groups
Manual Power and CCT dimming: Yes
Lighting scenes: up to 16
Control line: 2 wire line (Dali compatable)
Connection to ECM: PC, laptop,
mobile (Android, iOS) through Ethernet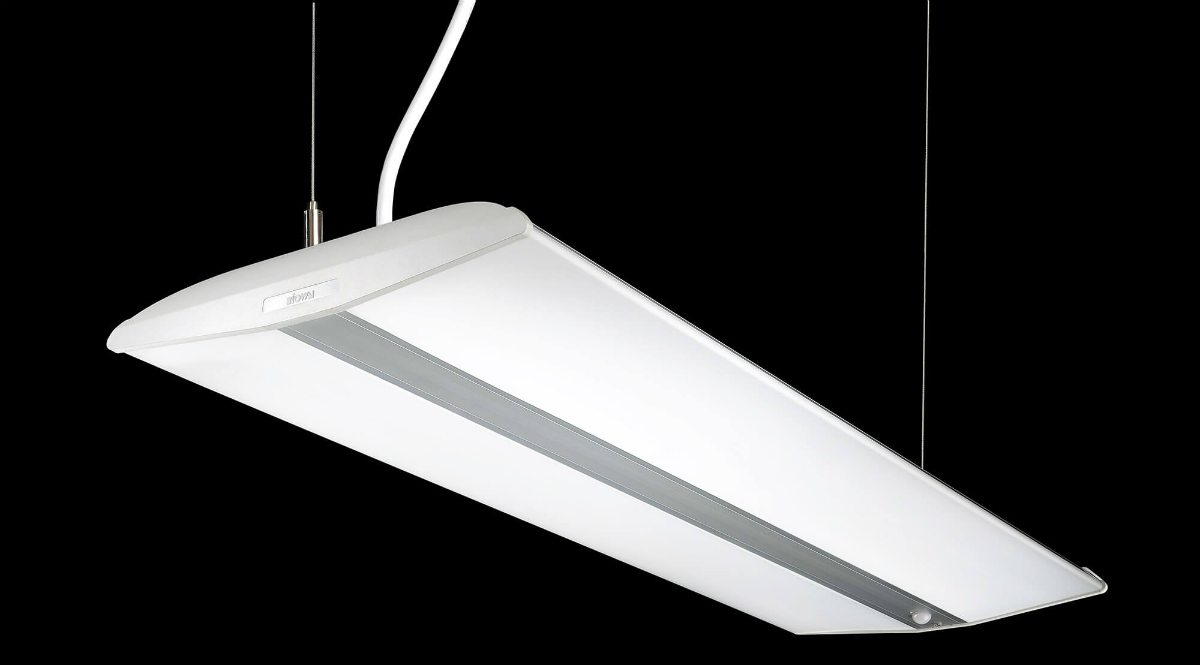 Coming soon
BIOWN – brings day-light to life